Ban Prasat | Nakhon Ratchasima | Archaeological Site
Ban Prasat, Thailand.
Ban Prasat is a small village located about 30 or 40 km north or Nakhon Ratchasima. It's well known because they discovered artefacts and tombs over there, showing how people were living in this area about 3,000 years ago. These people lived about 500 years over there, planting rice and domesticated animal, near the banks of Mae Nam Than Prasat. These discoveries were completed in 1991 but the excavation of some pits in the area.
Ban Prasat Map.
Ban Prasat has received international awards (The PATA gold award 1994 for Pata heritage and culture granted by the Pacific Asia travel Association and the Asenta awards 1996 for excellence in tourism granted by the ASEAN Tourism Association).
Beside the village, you will find 3 excavations sites, a museum and also some home offering stays for visitors and tourists.
Excavation pit that can be seen in Ban Prasat.
The tombs discoved show burial practices in the area. It involves placement of the dead along with offerings in a ractangle grave. The first internments are date to the Bronze Age, from about 1,000 BC. Human remains as old as 3,000 years ago were found there with pottery and bronze ornaments.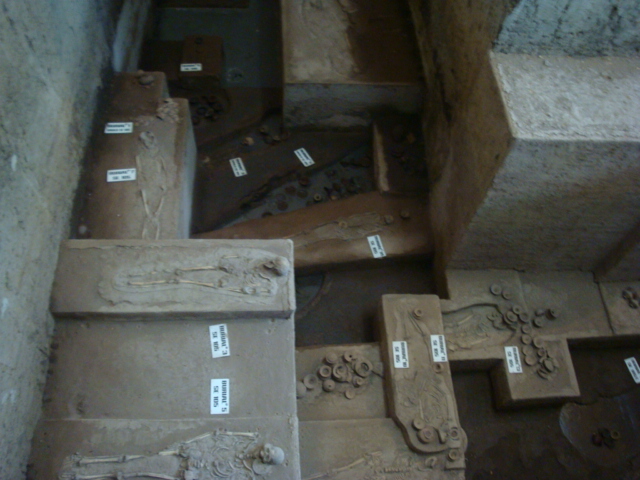 The museum is small but quite nice. The museum explains about the excavations pits and discoveries made. It shows how people were living in the area, and has also numerous artefacts found in the excavations pits.
A few years ago, I did the "home stay" in Ban Prasat. Information can be obtained at the TAT office beside Sima Thani hotel. We paid about 400 baht per person for a dinner at the house + a room for the night. The dinner was great, involving local specialties. The room was clean and the family very nice. They showed us the local primary school and the whole village. The only problem is that they didn't speak English and everything had to be done in Thai.
This is an example of home stay.
Ban Prasat flyer.
If you like these kinds of place, you will have to visit BAN CHIANG near Udon Thani. That place is really nice.
Links:
Watch a video from Ban Non Wat, a similar site to Ban Prasat, in the same district. They are digging at the moment…